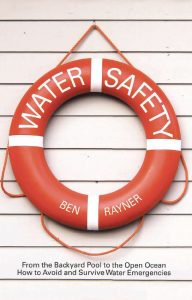 Water Safety
From Your Backyard Pool to the Open Ocean
How to Avoid and Survive Water Emergencies
By Ben Rayner
This book is the definitive guide on water safety and water emergency training. Packed with a lifetime of the author's aquatic experiences and the most up to date safety advice and survival techniques from the leading experts in the field of hypothermia prevention and survivor psychology. You will learn how to prevent water emergencies and survive them with the information in this guide. You'll hear from the experts and from survivors including Steve Callahan author of 76 Days Adrift, about his two and a half month sea survival ordeal, and from John Aldridge who survived more than 12 hours in the shark infested waters off Montauk, NY.
This is what people are saying about Water Safety,
"This is clearly a must-read book for anyone who is ever near more water than fits into a teaspoon. You may think you know about Water Safety, but you don't. Reading this book may save your life or the life of someone you love. Everybody needs to read this important book. "
-Laurence Gonzales, best-selling author of Deep Survival.
The book is now available for $20, which includes shipping and applicable sales tax (CT residents only).  Read a sample chapter here. All profits from the sale of this book go directly to Water Emergency Training, Inc. To purchase the book, please complete the form below.