It may seem like a question that has an obvious solution, but what is drowning? The answer is not as easy as you might believe. In fact, as a writer and researcher, I am learning new information about water safety all the time and WET wants to share these valuable insights.
Drowning, like cardiac arrest, or a car accident does not imply death. Just as you can suffer cardiac arrest or be in a car accident and still survive, drowning is defined the same way. In medical speak there is no such thing as a near-drowning, all drowning incidents, whether fatal or not, are defined as drownings. Also, terms such as dry drowning and secondary drowning are not considered proper definitions and are not used by medical professionals such as the World Health Org., the Red Cross, and the CDC, despite their common usage in the media.
Dry drowning is a term that was coined due to the fact that somewhere between 10-20 percent of drownings victims, when autopsied, show no evidence of water in the lungs. One theory is that some form of laryngeal spasm occurs that closes down a person's airway causing them to suffocate rather than drown. However, most medical professionals seem to disagree with this theory. More than likely this is just a simply matter of misdiagnosis. Very often little water enters the lungs in a drowning and this might be overlooked in an autopsy, seeming to indicate a lack of water in the lungs when there actually is a small amount present.
Secondary drowning, a term which I have used myself for years, also is not medically correct and should not be used to describe drownings. Secondary drowning describes the events that can occur shortly after victims are rescued from a water emergency. Though not the usual outcome, some survivors of a drowning can have symptoms worsen shortly after rescue. Despite the fact that there is no recorded instance of a person dying days or weeks later after a drowning incident, when displaying no adverse symptoms at the onset, victims can worsen and even perish after rescue due to the aspiration of water and the complications that arise from it. However, this normally happens minutes to hours after removal from the water. Claims of fatal outcomes days or weeks later have been shown to be misidentifications of other medical issues.
But in does happen. In the mid-1990s while on a surf trip to a remote area of the Pacific coast of Costa Rica I witnessed an event in which two people were rescued from heavy surf. The two victims, a man and a woman, were dragged up the beach by a group of good Samaritans. Unfortunately, within a few minutes both developed worsening symptoms and tragically both died as a result of the emergency. (I was not trained or experienced in water safety at that time. There were other rescuers who had far more advanced training than I did at the time, and they were in charge of the situation and did their best to keep these two people alive. Even with my current training, even a doctor, would not have been able to save these victims. The closest hospital was an hour and a half away, and that was a clinic with little ability to deal with such a dire circumstance.)
The reason for this post-rescue complication is that when water enters the lungs it interferes with a surfactant that coats these organs. This leads to interference with oxygen exchange, which can then lead to the development of pneumonia and other medical complications that can be fatal. This is compounded in salt water, which irritates the lungs more strongly than fresh water causing people to perish from drowning even after rescue.
To review, there is no medical definition for dry drowning, secondary drowning, or near drowning. All drownings are just that, drownings. They have three outcomes, a fatality, drowning with illness or injuries, drowning without illness or injuries.
Information from The International Life Saving Association was cited for some sections of this article. For more info please visit their site, www.ilsasurf.org or read their very informative white paper, Drowning in a Sea of Misinformation: Dry Drowning and Secondary Drowning. It is available on their website.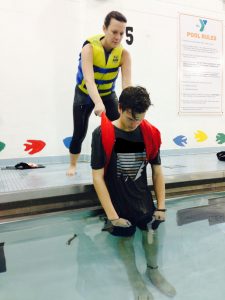 It is important that if you or a loved experiences a water emergency or a drowning incident, especially if no emergency responders have seen and or treated the victim(s), to make sure that the person is seen by a medical professional. Symptoms of a submersion or immersion quite frequently include, coughing, foam or froth in the nose or mouth, and unusual mental incoherence. However, if these symptoms worsen you should seek medical attention immediately. Also, any child that is involved in a drowning incident should be seen by a medical professional immediately, regardless of the level of symptoms.
The above photo demonstrates the towel extraction technique. This is a very useful skill when trying to extract heavy victims from the water or when attempting to pull an unconscious victim out of the water and over an edge like the pool in the photo. The design of above ground pools make it extremely difficult to get an unresponsive person out of the water and to safety. The towel extraction is an excellent method for these scenarios. For more on this and other safety techniques browse our site or buy the new book, Water Safety by Ben Rayner.